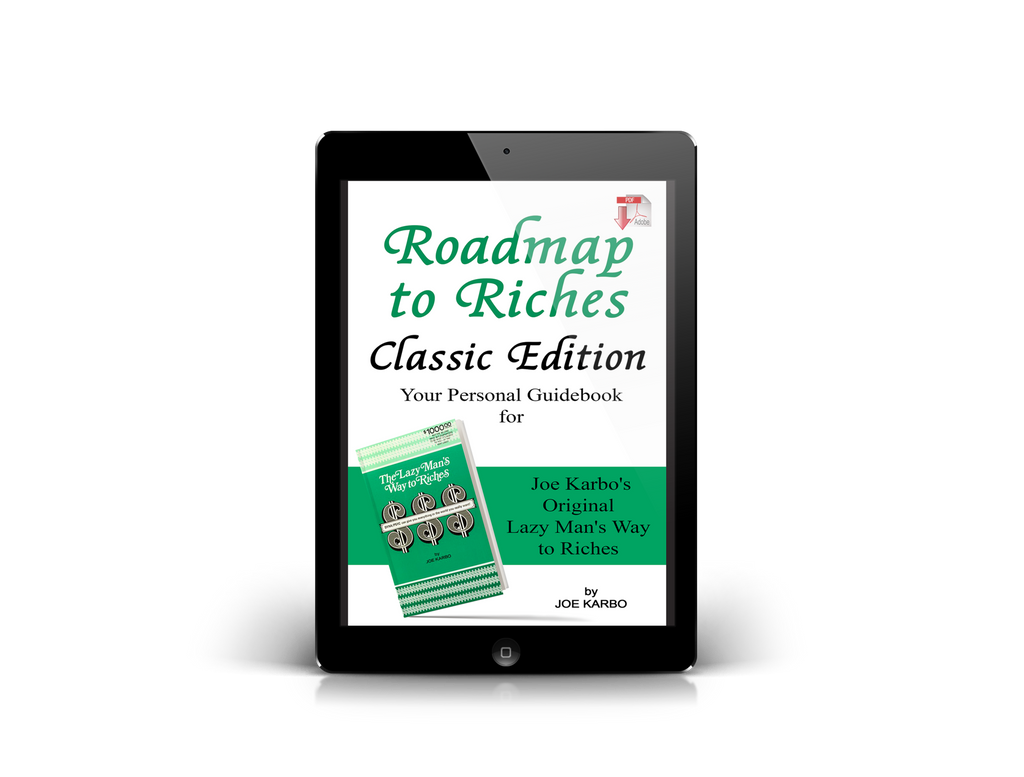 Joe Karbo's Roadmap to Riches Classic Guidebook
JOE KARBO's EDITION AVAILABLE FOR THE FIRST TIME...EVER!
AVAILABLE ONLY HERE!
Joe Karbo created this original Roadmap to Riches Guidebook to be an integral part of  the complete Lazy Man's Way to Riches Success Program.
*See below for information regarding the Complete Program.
Roadmap to Riches Classic is a step-by-step, easy to follow companion Guidebook for The Lazy Man reader, that can have a dramatic effect on your life and help you build the life of your dreams, quicker and easier than by reading the Lazy Man alone.
It takes you by the hand from where you are, to where you want to be, by being able to practice all of the exercises in the book so you can learn, imprint, and build success habits by doing them...not just reading about them.
The unique combination of the book and guidebook has proven to be a powerful combination for propelling you to the next level!
PDF eBook: 72 Pages
GET YOURS TODAY!
AVAILABLE ONLY HERE!
Or get the complete Program at the Best Value...
The complete CLASSIC KARBO LAZY MAN SUCCESS PROGRAM is available at our online store in the Digital Bundle Collection and consists of these 4 digital downloads;
Joe Karbo's The Lazy Man's Way to Riches Classic
Joe Karbo's Roadmap to Riches Classic Guidebook
Super Suggestion Guided Audio; Supercharge Your Daily Declarations
Start Your Day with Joe Karbo; 30 Daily Audio Consultations.
---
Share this Product
---
More from this collection